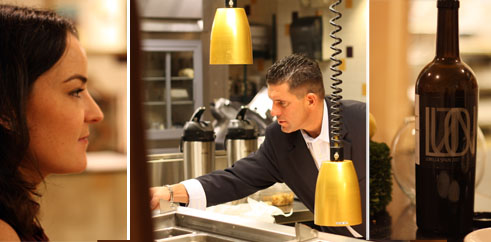 Last week I had the good fortune of sitting at the chef's table at Local 127 with my husband, thanks to a blog recommendation from Cincinnati Nomerati. Clearly, this is a placed that is blogged about a lot, but I just had to weigh in with some thoughts and pictures from our legendary 4 hour dinner.
Not only were we exposed to the sights and sounds of a working, busy kitchen, but we tasted almost everything that they were cooking up that night. As an added bonus, our waiter was also Executive Chef, Steven Geddes. (Who is, by the way, a freakin' powerhouse. That's him pictured bottom, left.)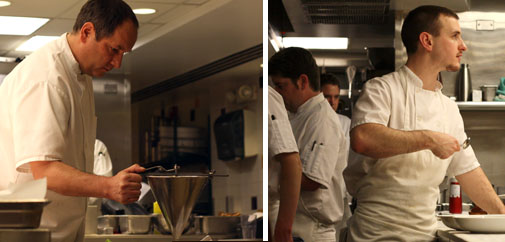 After studying in the kitchens of Wolfgang Puck's Trattoria del Lupo and Andre Rochat's Michelin starred Alizé at the top of the Palms, Geddes developed his own style of cuisine as Executive Chef of Chicago's Alchemy Kitchen and Asia in Las Vegas.
In addition, he's known for successfully helping open Coyote Café (Mark Miller), Tartare (George Morrone), Charlie Trotter's and Aureole Wine Tower (Charlie Palmer). Amazingly, he's also the only working chef in the United States who is also a certified Master Sommelier.
Which is why I had to ask him what brought him to Cincinnati. The answer? Our attractive position inside of Ohio's huge agricultural belt, his commitment to local ingredients and his desire to help bring some excitement to the area.
And so began our 11 course adventure.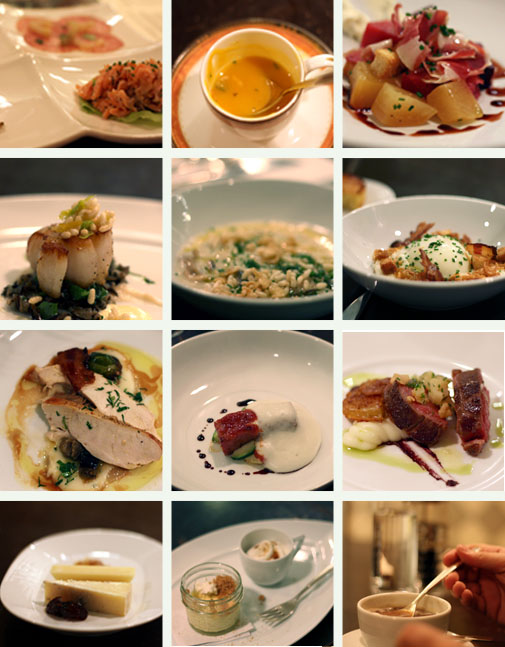 Course after course, I was blown away by textures (crispy rice puffs garnish creamy risotto rice), appearance (potato foam bubbled and glistened over a serving of meatloaf), and execution (when sliced, a slowly poached egg oozed into a surrounding circle of grits). All the while, Chef Geddes took the time to answer my questions, describe the ingredients in each course and to explain the reasons for his food and wine pairings. After four hours of eating and being in the chef's presence, I really felt that my sensibilities as a diner were broadened.
Clearly, Local 127 wants to be the best restaurant in the city. It will be interesting to see how it's popularity will compare to Jean-Robert's Table, which will hopefully open soon with the same goal in mind. I can't wait to find out.