You don't have wear the latest Manolo Blahniks to be hip anymore — just buy, cook and eat locally. It's what all the cool kids are doing. And so is Josh Campbell, head chef at Mayberry, one of Cincinnati's newest and most talked about restaurants. And he's also always rotating his menu according to what's fresh. Based on my experience, this turns out to be a good and a bad thing in a meal with high peaks and low valleys.
I'm really big on ambiance and I wasn't expecting to love this one as much as I did. The candle light and the long wood tables gave the room a really intimate, cozy feeling. Modern touches, like the place settings and the Cincinnati themed, black and white paintings, integrated well. And the colored Christmas lights, which were strung along the back counter, were a casual, charming addition.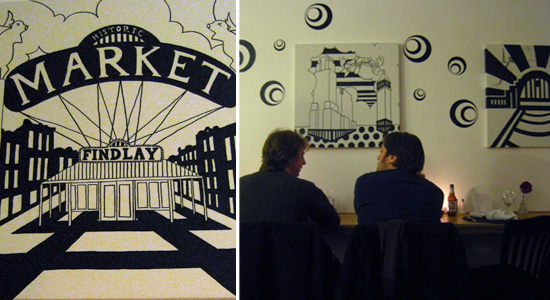 I smiled when I sat down and read the card stock menu, which was propped up in a napkin ring holder slit. It had the date printed on it, which definitely promised fresh food and a creative chef who was willing to cook on the fly.
I chose to start with an American cheese and Salumi plate and I was happy I did. I really dig these kinds of artisanal plates where the servings are so small, you are forced to work through the flavors slowly and thoughtfully. Three kinds of locally purchased, thick cut chunks of cured pork were paired with strong cheese and some hard baguette crackers. As I ate the porcini mushroom salame, I thought about the grocery store variety — in all of its flimsy, sad, little glory — and it made me frown. It would be hard to go back to that after this high fat, high flavor experience.
I moved on to a small plate of flatbread with turkey figs, country ham and local goat cheese. It was even better than the first plate, and if you ever see this on the menu, go with it. Crispy, salty pieces of ham tasted almost like bacon on a pesto mixture, goat cheese, and warm bread. And the sweet, candy-like figs sang a song when they hit my tastebuds.
But confusion started to set in when along came my pork tenderloin, smoky eggplant and spicy apple and demi glace. The julienne of apples were stacked high, the pork was impeccably blush and the eggplant flecked sauce was glistening in the candlelight. But it tasted bland, and I think, suffered from a lack of seasoning. It was also on the room-temperature side, which made it less desirable. As for the demi-glace, it was either underseasoned, flavorless to start with, or both. It was my first setback at Mayberry.
Lack of salt was a problem that escaped a very well executed venison, which was also beautifully presented. The plate almost had a Kandinsky aesthetic — a tiny mound of granola collided with a heavy swirl of cranberry sauce and dabs of mint yogurt. The meat was a lovely pink in the center and had a rich, gamey taste that paired nicely with the tang from the yogurt. But then huge mint leaves topped the dish, a curious culinary decision given the fact that a whole mouthful of mint would be destructive to any palette.
At Mayberry, you can't go wrong with the side dishes. The cheese sauce in the mac 'n cheese (which was actually more like a creamy, egg yolk custard) was drool inducing and I could have probably ordered a big bowl of it by itself and been a happy customer. I couldn't decide if I preferred it over the hash brown casserole though, which was also excellent. The texture was what really made it such superb soul food — a brilliant potato crust had clearly developed in the bottom of the pan and was then mixed in with the other soft and buttery potatoes. Genius.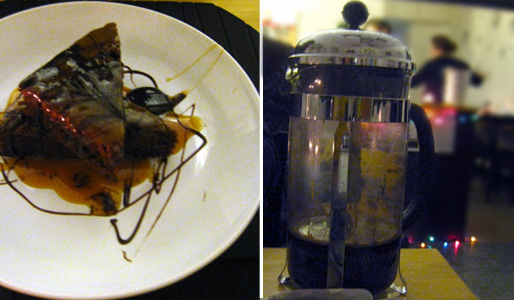 Just when I was soaring at Mayberry again, desert arrived. The warm chocolate brownie, which was actually room temperature, would have been good had the hot fudge actually been hot. It was a shame, because temperature miscalculations aside, the brownie was moist and the caramel sauce was velvety. But, it was hard to stay mad when a french press filled with piping hot, perfectly unfiltered coffee was delivered to help wash everything down.
A constantly rotating menu that relies on local ingredients is an attractive goal but it is also an ambitious one. Certainly, some of the evening's mistakes were made because the restaurant is still in it's infancy — only two Fridays have passed since Mayberry opened its door's for dinner service. It will be fun to see what Chef Campbell does with his creative energy and unique culinary perspective as time goes by. I can't wait to visit again.