Through the cut out in the wall that peers into Nectar's kitchen, I can see Chef Julie Francis gliding from one side of the room to another. Like a grand pianist, her head is down and her arms are in constant locomotion. Over the course of the next hour at Sunday brunch, I watch her feed a room full of hungry and highly expectant customers in a state of unparalleled concentration.
Without breaking a sweat, without turning her back, without even changing her facial expression, Francis appears to be half artist and half machine.
Her grace under fire clearly reflects many years in the business but it's her thoughtful, almost introspective culinary vantage point that sets her apart. No ingredient is used unless it somehow, completes the sensation of another. No texture is implemented without a careful diagnosis of how it fits into the surrounding elements.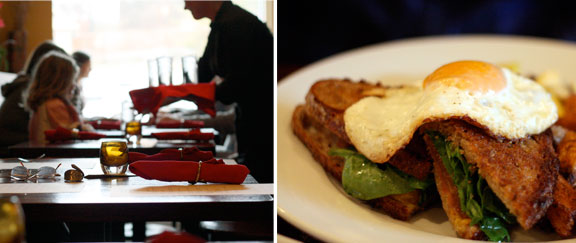 In the Croque Madam (an updated ham and cheese sandwich), salty procuitto is cleverly countered with sweet fig chutney. A runny, fried egg oozes into the center, creating a rich, velvety sauce.
In the Chorizo Scramble, a tart tomatillo chipotle salsa balances a spicy mix of Spanich chorizo and local pastured eggs.
Other popular menu items include the Challah French Toast, the Spice Rubbed Braised Pork Carnitas and the Smoked Salmon Benedict.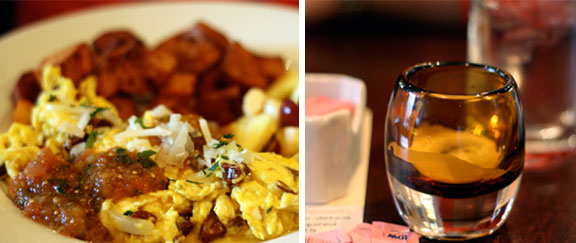 Just don't expect a thick, phone book sized menu. Both brunch and dinner at this Mount Lookout Square restaurant highlight just about 10 seasonal dishes at a time — all utilizing local ingredients from places like Ransohoff's farm in Batavia and Turner Farm in Indian Hill. And each one, fully realized in conception and undeniable in execution, is worth your attention.
Nectar is at 1000 Delta Avenue in Mount Lookout Square. And unlike Northsides' Honey, reservations are welcome at 513.929.0525.