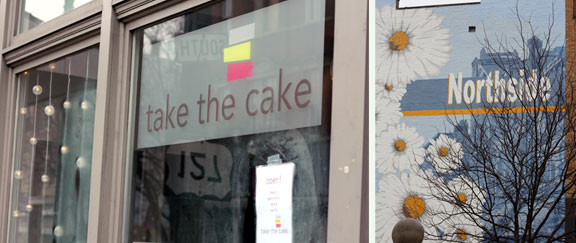 The January weather seemed like it had finally sunk its teeth in me. With a deep chill in my bones and under a grey sky, I followed the wet pavement and drizzling rain into one of the most talked about brunches in Cincinnati — Take the Cake.
Immediately, the icicles on my skin began to melt. The crowd at Take the Cake was buzzing with friendly people sprawled out at long communal tables — sipping strong coffee, reading the newspaper, shaking hands, and of course, eating.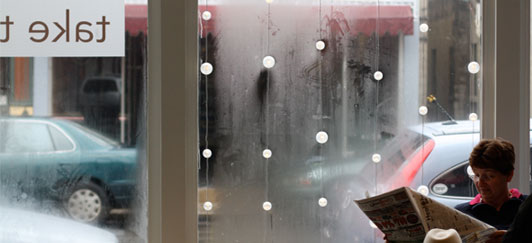 Surely, if I had been Bob Dylan I would have broken out into a rendition of "Shelter From the Storm." Walls were painted bright green and warm red. One side of the café was devoted primarily to the beautiful but now defunct Gourmet Magazine. It seemed, that in this little pocket of warmth and community, I was home.
In an effort to observe the interworkings of the morning rush, I pulled up a stool to the back kitchen counter.
Part baker and part happiness maker, Doug (above) took orders, filled coffee pots, and plated his amazing concoctions for the day. I rationed my morning hunger with a plate of warm broccoli cheddar quiche on an unforgettable crumbly crust and a soul-packed bowl shrimp and grits.
With ease and a smile, James faced the hungry crowd at the cash register. Eyes widened, he informed me that my shrimp and grits was "the bottom of the pot," signifying that I was holding the single most delicious bowl of food in the city. While Melissa (Doug's chef partner in crime) moved constantly on her feet, the café reverberated with the energy of good grub and good friends.
Before I left for the day, I made sure to grab a treat from the pastry counter — a chocolate cupcake, towering with chocolate icing and shaved chocolate garnish. Each bite (sinfully rich and unforgettably moist) was yet another reminder that the combination of deep-seeded perfection and focused passion will always yield mouth watering results.
Like a churchgoer leaving worship, I left Take the Cake feeling lifted. Find it and love it at 4035 Hamilton Avenue, Cincinnati, OH 45223.