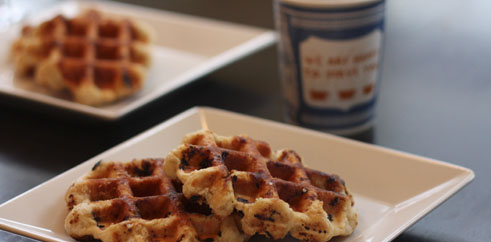 God bless, Jean-Francois Flechet, master of the Belgian waffle! I braved the cold on Saturday morning to sample his Liège waffle from Taste of Belgium at Findlay Market.
I popped a piece in my mouth and the rest is history. Before I could think twice, I was scrambling to fork over 12 bucks for a 4-pack to take home. So, here's why these sweet, sticky little morsels of nirvana have become my newest fascination…
The fine people at Taste of Belgium press their dough with an authentic cast-iron waffle maker. The specialty sugar involved gets caramelized on the outside of the waffle, making it gooey and sticky. Black flecks that appear burned are actually crystallized flavor bursts that melt in your mouth. With lingering hints of vanilla, Liège waffles are rich and sweet like candy.
The dough is thicker than the American variety. Biting into one of these things is kind of like biting into a piece of brioche. Unlike American waffles which can be mushy, Belgian waffles are toothsome and have a great texture.
I was surprised to learn how widely available Taste of Belgium waffles are in Cincinnati. You can buy and/or taste them at the following locations:
Market house at Findlay Market
The Coffee Shop on Madison in O'bryonville
Coffee'n'Cream in Fairfax
Pleasant Perk in Pleasant Ridge (weekends only)
Whole Foods Market (Hyde Park & Mason)
Bigg's (Hyde Park & Mason)
Daveed's
Mokka
Lookout Joe
Mammoth Coffee
Coffee Emporium (Hyde Park, Downtown & Xavier)
Sidewinder
The Speckled Bird Café
Bellevue Bistro
Eat them plain or cover them in fruit. Eat them sprinkled with powdered sugar or topped with whipped cream. Hot, cold or room temperature — it doesn't matter. Mosul For the love of God, just eat them!