There's jazz and then there's Slim Gaillard's jazz. It's one thing to combine offbeat notes and surprising syncopation but it's a whole different thing to replace lyrics with nonsense syllables and gibberish sounding spats from an entirely made up language. But that's just what Slim Gaillard did — he invented a completely new urban dictionary of words that he called "vout" and he popularized them through music.
It is no surprise then, that Patrick McCafferty named his Northside restaurant after the guy. (You need only take one look at the website to understand the abstract, eccentric quality of McCafferty himself.) As the owner and band leader, he and his restaurant dance to their own rhythm.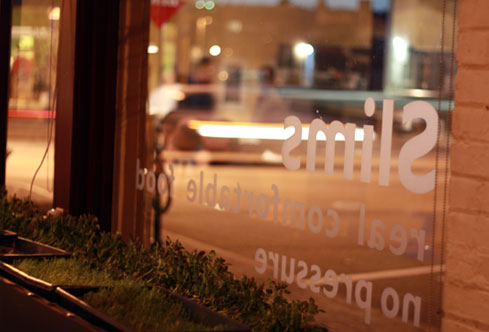 But remember, before it was immortalized in Cincinnati Magazine's Top Ten, before it was name dropped by the inn crowd, Slims didn't even have a phone. They didn't have a way to take your credit card either. And to be fair, they didn't really care. McCafferty didn't open the place to fit some kind of restaurant mold — he did it to support his widely expanding garden.
As part of the slow food movement, Slims restaurant was a righteous slap in the face to establishments that prided themselves on turning tables and utilizing imported ingredients. Slims was a different animal. They glorified slow, thoughtful service, bragged about their homegrown ingredients and non-existent wine list.
That was 2003. Over the last seven years, Slims has earned the respect of even the toughest critics. The establishment has become so popular, in fact, that the staff now recommends getting reservations. And no worries — all major credit cards are accepted. On a Saturday night, long communal tables are jammed with people and their chitter-chatter reverberates off of crooked wood beams and mustard colored walls.
The once glorified slow service now confuses destination diners, and to many, it becomes hard to differentiate from basic neglect. While some of the dishes soar in excellence (there is a cult following for the braised pork belly), others like an amuse bouche of an avocado slice and piece of watermelon come across as overconfident. The 45 dollar prix fixe menu with no option of ordering à  la carte doesn't always fit the handmade table and agrarian vibe. Is this really the "real comfortable food" that Slims proclaims?
Flash forward to early spring in 2010. McCafferty opens Vout — a Tuesday through Thursday evening concept in Slims' restaurant space with a substantially decreased price point. The room is the same but somehow the experience feels entirely different. Here, diners order at the counter, pick up their own silverware, take a number and sit anywhere they want.
Since the room is significantly less packed, service is casual but friendly and genuine. Agonizing over what to order is half the fun and slowly grazing on inventive Cuban and Puerto Rican plates is nourishing to the soul. In my experience there, not one but two people check in during my meal — including one of the cooks, dirty apron and all. At long last, Vout feels like the casual, sexy-cool Slims that Slims always wanted to be. "It's like the socialist part of the restaurant," one of the staff members confirms.
The best news? Many parts of the Vout menu are straight from the Slims menu. The romesco sauce is the same. So are the plantain chips and the melt-in-your-mouth pork. The charcuterie board — a lip smacking sampling of house cured meats and pickled fruit — looks identical to the one at Slims. The rest of the menu is still eccentric and adventurous but at just $6-$8 for an entree, I don't mind taking risks.
The overnight cooked pork butt is so tender it falls apart on my fork. The fufu, a Central African staple incorporating mashed plantains, is uniquely flavored and fun to eat. And the enchiladas mole, which come with black bean salsa and plantain crema, are all at once bitter and sweet.
Sitting in a shotgun space lined with artwork, enjoying a bottle of wine that I opened myself and plates of locally grown food, I feel at once that Slims has slipped on an old pear of jeans. Comfortable. Roomy. Worn by years of experience.