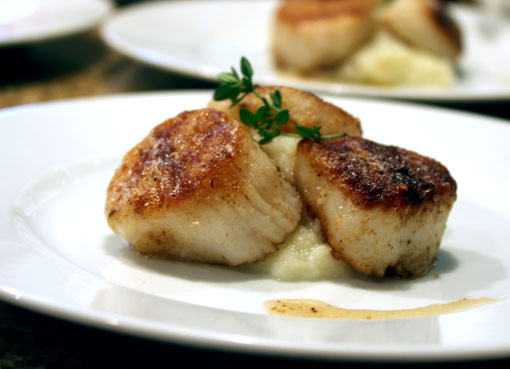 buy accutane canada Disaster. Run and hide. For the last two weeks I've been cooking at home and the results haven't been pleasing. I meant to tell you about the pomegranate glazed turkey breasts, for instance, and the grilled onion salad. They were going to be very autumnal and satisfying thank-you-very-much. I also meant to go on and on about the moussaka. But lately, over-extension meets over-ambition and I've been left with nothin' but a stomach full'a sighs.
But alas! This weekend! Finally a breakthrough! I stumbled upon not one but several original Todd Kelly recipes online at the Orchids at Palm Court website. And now I'm back, baby.
Shazaam! Look at this first course dish — scallops with a fluffy bed of cauliflower puree. Tod Kelly is known, of course, for his grandiose style and his exotic ingredients. And at least until March, he's the King of Cincinnati — number one on the list of Cincinnati Magazine's Top Ten Restaurants. But in several of these recipes, he pares ingredients and procedures down for homecooks who likes to .. well … cook.
This whole dish was made with four ingredients — granted one of them is truffle oil — but it was incredibly easy to assemble and was a complete show stopper. Even if you don't like cauliflower raw or cooked, pureeing it is a sneaky little way to experience the flavor without the texture. Delicate. Subtle. Earthy. A fantastic shortcut to fine dining at home.
It's been a full 24 hours since my family and I gobbled up these hard seared scallops and their buttery cloud of cauiflower. But I'm still smiling. My losing streak is over, people. I can feel it in my bones.
Scallops with Cauliflower Puree
No need for me to describe it here. Download Todd Kelly's original recipe here.