I'm coming right out of the gate with an admission. Beware. It's totally un-french and un-fabulous and if we weren't hitting it off so well already, I might be too afraid to tell you. I made Sole Meuniere without the Sole. That's right. Instead, I reached into the fridge and pulled out the only thing I had tucked away — a humble, inexpensive, totally every day variety of fish. Which is to say, I made Sole Meuniere with tilapia.
In France, I imagine I might be executed for this sort of behavior. In America though, I imagine busy people everywhere throwing up their hands and saying, "So what! Be resourceful! I buy my cheese pre-cut and prepackaged!"
This is why I like America.
This might be a good time to admit that I didn't have any parsley either — which in classic Sole Meuniere is sort of essential. But lets be honest. Parsley is really more about presentation than taste and can you look me right in the computer screen and tell me this piece of fish isn't pretty stunning?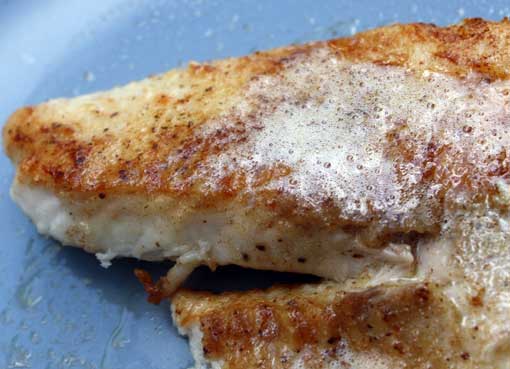 Sole (or tilapia) Meuniere is made by dredging the fish in flour, pan frying it in butter and then serving it with brown butter sauce and a squeeze of lemon. But just in case you're not totally impressed yet, I want to detail a certain consequence of combining hot butter with lemon juice on top of a seared piece of fish.
Froth.
I'm talking about a gently bubbling, airy mixture that seizes up on top of the fish when the butter hits the lemon juice. I'm talking about a chemical reaction that occurs naturally and miraculously — without any special equipment or pyrotechnics or fancy tricks of any kind. It's just delicious froth, baby, and last night in the middle of my kitchen, it was mine for the taking.
I do admit to having a Pavlovian reaction when it comes to the word froth. The way it sounds, the way it rolls off the tongue with an elegant, whimsical melody. You'd be amazed at the way every day tilapia transforms into a glamorous sort of mealtime luxury — as if it were suddenly parading around the kitchen with long eyelashes and a mink coat. It's somehow brighter, somehow sexier, somehow all jazzed up when lathered in foam and butter and yes, even parsley if you've got it.
[print_this]
Sole (or Tilapia) Meuniere
Serves 2
Ingredients
2 pieces white fish, preferably sole
1 stick of butter
Flour, for dredging
1/2 lemon
Handful chopped parsley
Kosher salt
Procedure
Melt a stick of butter in a small pot.
Salt the fish on both sides and dredge in flour. Tap off as much excess flour as you can. Pour some melted butter (about 2 tablespoons) into hot skillet. Sear the fish on high heat for two-three minutes and flip. The fish should be semi-opaque in the center but should still glimmer. Remove the fish from the skillet when ready. Set on serving plate.
Pour the rest of the melted butter in the hot skillet. Cook until butter browns, 2 minutes more.
Pour lemon juice on fish and sprinkle with parsley. Top the fish with some of the melted butter. Magic froth will follow.[/print_this]