The other day I got pepper in my eye and from there, things continued to get worse. Dustin — champion eater and supporter of all things buttery and rich — made the disturbing proclamation that he was going to start watching his diet. As I blinked wildly, trying to cry away the surging heat in my pupil, I realized that there was no worse pain in the world than taking away my butter.
After a day or so of drafting my culinary will ("I hereby bestow my good kitchen knife to my sister — who always enjoyed sole meuniere…"), I remembered three little words. Á la nage. And then I felt the words slip through my lips with whispy admiration: à la nage. Á la nage! The answer to my conundrum had been there all along.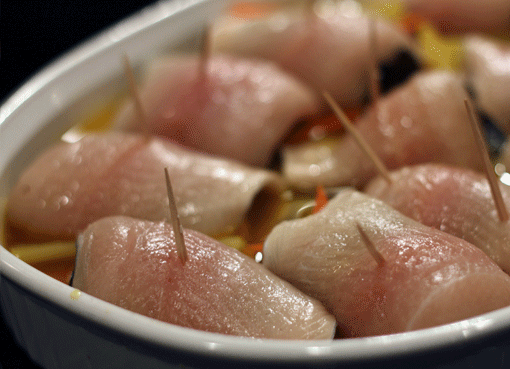 Cooking à la nage means poaching food — usually seafood — in a court bouillon and serving the two things together in a shallow bowl. Literally, it means "in the swim." The vegetables often become part of the dish, or at the very least, they become part of the garnish. I made it once in culinary school and I remember it being quite delicious — albeit devastatingly healthy. Was there hope in our culinary worlds, after all?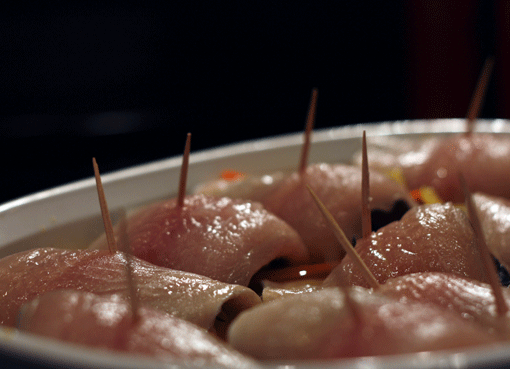 I rolled these trout fillets and lined them up like like soldiers in a flavorful mixture made of white wine, vegetables and fresh aromatics. Even if they're baked with virtually no fat enhancements, they're super flavorful if you're careful with the seasoning. Translate: don't skimp on the salt. You can watch your [ insert loathed body part here ] but when it comes to salt, I'm not budging. I mean, you can't have it all, people.
[print_this]

Trout a la Nage with Riesling
Serves 4
Ingredients
1 cup dry Riesling
1 large carrot, finely julienned
1 large celery rib, finely julienned
1/2 small sweet onion, thinly sliced
4 whole black peppercorns
3 juniper berries, crushed
1 garlic clove, crushed
1 bay leaf
1 thyme sprig
1 oregano sprig
1 tablespoon canola oil
Four 7-ounce skinless trout fillets
Salt and freshly ground pepper
1 tablespoon unsalted butter (optional)
Procedure
Preheat the oven to 375. In a saucepan, combine the Riesling with the carrot, celery, onion, peppercorns, juniper berries, garlic, bay leaf, thyme and oregano. Bring mixture to a boil.
Meanwhile, season the fish with salt and pepper. Starting from the tail end, roll up each fillet and secure with a toothpick in the center. Transfer the trout rolls to a baking dish.
Pour the Riesling mixture over the trout rolls and bake for 15 minutes, or until the fish flakes. Let rest for 5 minutes, then remove the toothpick. Transfer the rolls to shallow bowls and spoon the vegetables on top––removing the bay leaf, herb sprigs and peppercorns from the broth. Whisk the butter into the broth (optional), season with salt and pepper and spoon the broth over the trout. Serve right away.
[/print_this]