These new potatoes are really quite handsome. I figure, if I were just a half-a-nut crazier, I'd have them made into 2 x 3 photos and stuffed into my wallet. While new parents pass around photographs of their new babies, I'll just get out my plastic sleeve of new potatoes. I'm not above that kind of thing.
What? You've got a viral YouTube video of your kid laughing? Well, my new potatoes pop in the skillet like firecrackers. They taste earthy and warm and if I play my cards right, they won't ever be embarrassed by my high wasted pants.
Here's the thing about this dish. It's a little different than your standard new potato recipe. If you're a fan of tomatoes, but not so much the kind that taste like water in the winter, a great trick is to dice them up and throw them in the pan early — while the potatoes are still crisping.
This will cause them to dehydrate. That is, they'll roast in their own juices until they're shriveled and sweet and tangy. You won't be able see them in the end, but they'll be clinging to the potatoes, hanging out in their own secretive, seductive way.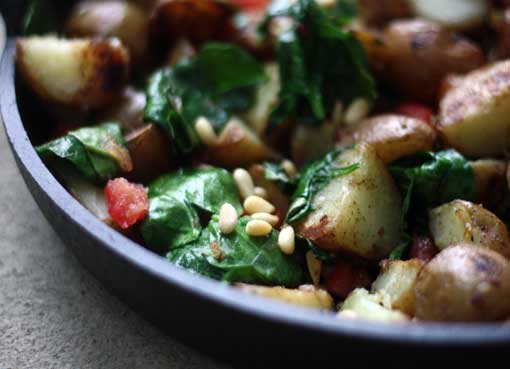 And if you're tired of cold weather food that looks … well … brown, spinach is the remedy. Clean and simple. Bright and pretty. Whether or not I ever gravitate towards pleated pants or start to stock pile Christmas sweaters — I'll have these potatoes. And whatever you do, you should have them, too.
[print_this]
New Potatoes and Spinach Recipe
Ingredients
1 1/2 pounds new potatoes, cut into quarters
1/2 shallot, minced
1 tomato, diced
5 cups spinach (you need more than you think)
3 tablespoons pine nuts
3 tablespoons olive oil
Kosher salt and pepper, to taste
Procedure
Place the potatoes in a large pot filled with generously salted water. Bring the water to a boil and cook until the potatoes are just tender.
Strain the potatoes and transfer them to a large saute pan or a cast iron skillet. Add the oil and saute the potatoes until they are brown and crispy on one side, about 10 minutes. (Don't agitate the potatoes in the pan until they form a nice crust.) Season to taste with salt and pepper.
Turn the heat down to medium-low and add the shallots and tomatoes. Stir frequently so that the shallots don't burn. Flip the potatoes and continue to crisp on the other side, about 10 minutes more. Add more oil as necessary. (The tomatoes will virtually disappear, but their flavor will be apparent in the end.)
Add the spinach and pine nuts. Stir until the spinach wilts slightly and the pine nuts are fragrant. Check for seasoning. (I usually add more salt and pepper.) Keep warm until ready to serve.
[/print_this]